by Anthony De Beauville
Hundreds of Saint Lucians braved the inclement weather on Friday afternoon (25th August 2023) to converge on the Dereck Walcott Square (DWS), Castries.
The historic moment was to witness Saint Lucia's reigning Senior Sportswoman for the Year Julien Alfred competing out of lane 7 at the World Athletics Championships women's 200 meters final.
Running against the best women's 200-meter lineup in years, Julien finished an impressive fourth in a time of 22.05 seconds, ahead of Daryll Neita, Great Britain in 22.16 seconds.
Jamaica's Shericka Jackson running in lane six took home the gold in a time of 21.41 seconds. This is the second fastest time in history only behind Florence Griffith Joyner's 21.34 seconds from Seoul 1988 Olympic Games.
Gabrielle Thomas, USA, the silver in 21.81 seconds, and Sha' Carri Richardson, USA, the bronze in 21.92 seconds.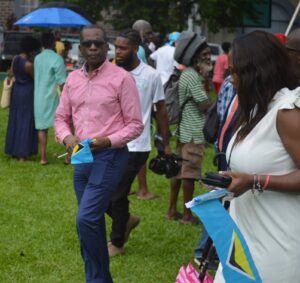 Amongst the many individuals who took time out from their busy schedule to take in the showpiece on the big screen at DWS was Saint Lucia's Prime Minister, Hon. Phillip J. Pierre, he said, "As most Saint Lucians we would have preferred she came in first, she finished fourth, I am very happy for her, congratulations.
You must understand this is Julien's second professional outing, we are very pleased, congratulations and I wish her all the best".
Youth and Sports Officer in the Ministry of Youth Development and Sports, Clivus Jules said, "I feel excited, it is a very positive thing to engage the community in terms of recognizing what Julien would have achieved in Budapest.
Julien in a lot of ways in Saint Lucia is a trend setter. She was able to break barriers that several of our other athletes previously have not been able to break, the fact that she was able to land a contract with PUMA is a good one for Saint Lucia and to open the doors for several upcoming athletes".
Former Controller of Customs in Saint Lucia, Claude Paul said: " It's a great achievement to be amongst the contenders for a world title, it's fantastic for her and likewise Saint Lucia.
She is blazing her trail and being the first to get there, it is a fine example for other athletes to get there".
Meanwhile, on Thursday 24th, Julien Alfred, who has been in great form this year, finished strongly to take the second heat in 22.17 seconds.
Alfred was ahead of Briton Daryll Neita, who led until the final few meters for a personal best of 22.21 seconds.
Also on Thursday, in Heat 3, Jamaica's Shericka Jackson won over American Sha' Carri Richardson in a time of 22.00 seconds.
In Heat 1, American Gabby Thomas, the Olympic bronze medallist, and world leader this year (21.60 seconds), won with a time of 21.97 seconds.
In the 100-meter final, Julien held on for fifth place in a time of 10.93 seconds.
The eventual winner, Sha' Carri Richardson, USA, in a time of 10. 65 seconds.