A Canaries resident, Alex 'Zanda' Henry (shown in the headline photo), who left an envelope with cash on a counter at NAPA Auto parts along the John Compton Highway in Castries on Thursday has praised the employees for their honesty.
Henry told St Lucia Times the money was not his.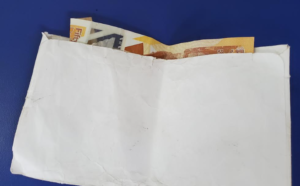 Henry said someone had given him the cash to run an errand.
"This morning, I came to NAPA to buy a part, and I left my envelope on the counter with money in it. I left the place and came back an hour later. The envelope was in the same place," he recalled
"NAPA is a good shop. Everybody should come and shop here," Henry declared.
"Honesty is the key of life, and those guys working here are very honest," the Canaries resident asserted.
The envelope he left on the counter contained over one hundred dollars.
Headline photo: Alex 'Zanda' Henry