Saint Lucia police have offered compensation for information on crime, encouraging citizens to anonymously contact the Crime Hotline 555 with tips that would assist in the recovery of firearms and prosecution of offenders for firearm-related offences.
"When you give the information you will be given a code and you can determine whether it's a priest, whether it's somebody involved in citizen security like Dr. King could give you your compensation – not necessarily the police," Police Commissioner Crusita Descartes-Pelius explained.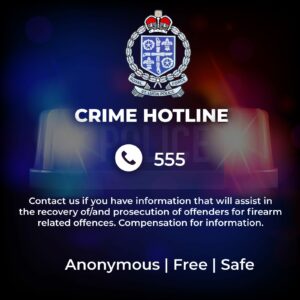 "We are not involved in giving you the compensation," Descartes-Pelius told reporters during a news conference on Monday at the Office of the Prime Minister.
She said the individual's identity would be unknown, and they would decide how to collect compensation.
Descartes-Pelius said the police wanted the information to assist them in fighting crime and explained that the amount of the compensation would depend on the information received.
"We are determined to make Saint Lucia a better place," she declared.
"We are determined to take our country back from the criminals. We are determined to do everything in our power lawfully, " the Police Commissioner told reporters.
"I can guarantee that our officers are competent to do that," Descartes-Pelius asserted.
And she expressed gratitude to the hardworking men and women of the Royal Saint Lucia Police Force.
"We as citizens must show some more appreciation to our officers and some more respect," the Police Commissioner stated.