On Wednesday, art students from St. Mary's College and Leon Hess Comprehensive Secondary School completed a two-day rock art project outside Serenity Park to spruce up the area ahead of the inaugural Junior Jazz & Arts Festival.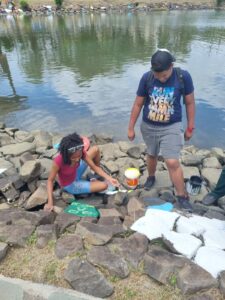 "It was an opportunity for them to showcase what they learned in the classroom," Castries Mayor Geraldine Lendor-Gabriel told St Lucia Times.
The Castries Constituency Council (CCC) and the Ministry of Local Government host the May 11-12 Junior Jazz & Arts Festival from 11:00 am to 3:00 pm.
The Ministry of Youth Development and Sports has endorsed the music event to showcase young musicians and vocalists.
With the support of the CCC and private and public sector sponsors, Dove Productions is the event producer.
"We believe it is a good way for us to identify talent and hone it not only for the creative industry but also the tourism industry because these young musicians can go on to perform in that area and develop a full career," the Mayor of Castries said.
Among the junior jazz festival sponsors is O-Tune Radio out of Toronto, Canada, with a wide listenership.
They will broadcast the event live to a global audience.