Emergency personnel from the Saint Lucia Fire Service (SLFS) rushed two men to the hospital after a minibus plunged over a precipice at a parking lot in Vide Bouteille, La Clery, in Castries.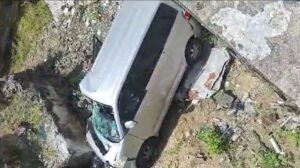 The fire service said it received a distress call at about 1:48 pm and transported two men in their fifties who had sustained head trauma.
According to reports, the minibus fell some twenty feet.
The cause of the incident was not immediately apparent.
There are no further details at present.